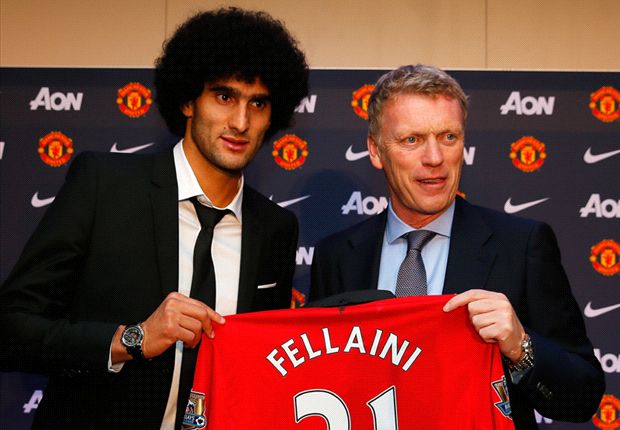 The Goal Transfer List 2013 reveals that Marouane Fellaini will cost a hair-raising €97 million if he stays at Old Trafford until the end of his contract,,,,,,,,,,,,,,,,,,,,,,,,,,,,,,,,,,,,,,,,,,,,,,,,,,,,,,,,,Marouane Fellaini has simply not transformed Manchester United's midfield in the way that many fans hoped but few truly expected he would. For a man with hair you can spot from the back row of the Sir Alex Ferguson stand, he has too often played like a man desperate to hide at Old Trafford,
weighed down by a ridiculous price tag that hangs like a millstone around his neck
.
But, for all of the alliterative headlines bookending his surname with 'failure' or 'flop' since his €32.4 million deadline day move from Everton, there remains a United coaching team who are delighted with the Belgian, whom they privately describe as a model professional and excellent trainer.
"Marouane has knuckled down and acted professionally from day one," a Carrington source told
Goal
. "He has delivered what the manager expects from all his players: 100 per cent commitment."
This is no Bebe situation, when first-team coaches took to warning their colleagues to duck whenever the €8.8m signing got the ball in his first week of training.
Yet that, in turn, begs the question as to why he has become an anathema for such large groups of fans only months into his Old Trafford career. The answer, in short, is that Fellaini is not close to being worth the money the champions paid for him. That the Belgian ended up costing €4.1m more than the €28.3m fee agreed with Everton on the very same day they signed him rather neatly sums up the mess created by United.